Student loan debt is at its highest level ever.
That's the conclusion of a new report released on Thursday by The Project on Student Debt.
Two thirds of students in the class of 2010 graduated with college debt that averaged $25,250, which is the highest it's ever been. Students mostly borrowed through federal loans, but at least 22% of the student debt came from riskier and more expensive private college loans.
States With the Highest Student Debt
Students from the Northeast and Midwest got slammed the hardest. I'm assuming that's because more students in those regions attend private colleges and universities. In the chart below, you will see what the average student borrower from the class of 2010 owed.
States With the Lowest Student Debt
The states where students graduated with the lowest debt were in the West and the South. In these two regions, students are far more likely to attend public universities that are lower priced.
A Look At California
If you're a Californian, you might be surprised to see California on the list of the lowest debt states. I know I was. Keep in mind, however, that these figures were generated by students who typically started college in the mid 2000's. The prices weren't nearly as high back then.
After financial aid, the price of a University of California education can be staggering for low and middle-income families. As you can see from the chart below that I pulled off the UC website, a family making $20,000 a year is somehow expected to pay $9,400 for one year of college!! Yeah, right.
Hall of Shame: Private Schools With the Highest Student Debt
Finally, the Project on Student Debt's report included a list of schools with the highest student loan debtors. Students of the private schools listed below graduated with debt ranging from $40,400 to $55,250. That's mind boggling! I should note that on this list are five art schools and five Catholic institutions. I did not consider this surprising since art schools are notoriously stingy and so are many medium-sized Catholic universities. Consider yourself warned.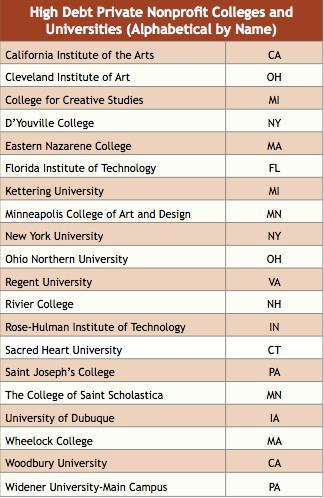 Public Universities With the Highest Student Debt
Here are the public universities that produce graduates with the most debt. The public school debt ranged from $29,800 to $45,350.
Lynn O'Shaughnessy is the author of The College Solution and she also writes a college blog for CBSMoneyWatch.com and US News & World Report. Join her on Facebook.
 Read More on The College Solution:
 Where Most Students End Up Attending College
Attending College in a Different Time Zone