Last month, my husband and I sent off our final college payment.
Bruce and I made monthly payments for seven consecutive years for our daughter Caitlin and our son Ben, who will be graduating from college in May. We did not take out any loans to pay for college and neither did our children.
Our daughter Caitlin took the picture of us sipping cheap champagne in our front yard to celebrate this milestone.
When your children are little (see mine below), college seems so distant that it's hard to get motivated to save for this monster expense. When you are in the midst of paying for college, those monthly payments seem like they will never end. As a couple, we resisted the natural urge to put off saving and we are proof that the monthly obligations eventually do disappear.
Starting to Save Early
I hesitated to write a blog post about our success because one of the main keys to paying for college is to start early and if you're reading this blog your children are probably teenagers.
I hear from parents (mostly affluent) who bitterly complain about what colleges expect them to pay for college. A family making $150,000 a year, for instance, with one child in college can have an expected family contribution (EFC) that's in the mid $30,000 range or higher. And most colleges will expect parents to pay more than their official EFC.
It would be very hard for most families to pay for college strictly out of their household income, which is why getting a head start is essential. And that's especially true during an era when the wages of most Americans have shamefully stagnated while college prices continue to rise beyond many households' ability to pay.
My husband and I started saving for college when our kids were infants. I left the Los Angeles Times when my daughter was just 1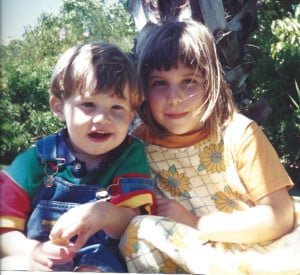 1/2 years old so we could move to San Diego where my husband got a job as a science writer/columnist for the San Diego Tribune (now San Diego U-T).  My LA Times reporting position was the last "real" job I ever had.
I eventually began freelancing as a personal finance journalist, which allowed  me to stay home with my two children. For many years, my income was erratic. During the dot-com boom years, I got two book contracts to write about investing in one 12-month period, Other years, I struggled to adapt to the reality that the number of financial magazines had shrunk.
Making College a Top Priority
Through it all, saving for retirement and college were our top priorities.  That meant that buying a house in the area known for great public schools (suburban North County) was not in the cards. Before my daughter's second birthday, I visited the San Diego County Board of Education to look at the academic report cards for grade schools in a less expensive area of the county (La Mesa), which was much more to my liking because the houses were many decades older (not tract homes).
Money was so tight the we rented out the granny flat attached to our garage to a student who attended nearby San Diego State for a couple of years. After that, the granny flat became my office. (See photo.)
My husband (also a journalist) and I  tried to find opportunities to save a few dollars more whenever we could. When my kids stopped wearing diapers, we increased our monthly college contributions. When my son was out of preschool, we upped what we could save. Most of the toys, books and clothes that our kids had for many years came from garage sales. When Ben and Caitlin were older, they knew that we would not be buying them a car (a huge money drain). It would not even have occurred to them to ask.
Parents often believe that it's important for their children to attend the very best schools in the very best neighborhoods and will spend whatever it takes to do so. I have never bought into that belief. And if you've spent anytime listening to the Freakonomics guys, you'll appreciate why this isn't true.
The grade school and middle school in the K-8 district that my children attended in La Mesa did not enjoy the top ratings that North County schools commanded, but they were very good. By being very involved at the grade school and knowing the principal, I made sure that my kids
were assigned to the best teacher in every grade, which I think gave them an advantage. By the time my kids finished with the neighborhood schools, they were very well prepared for high school. My son went to a charter high school (High Tech High) and my daughter went to a private, all-girls high school (Academy of Our Lady of Peace).
 Involving the Kids
I let my children know that we were saving for college and shared the progress with them. Here is a photo of the college folder that Caitlin decorated that I used to keep track of her college account statements when she was young.  (This was before you could go online and get the information easily.) I bought Caitlin a large pink and purple calculator and showed her how she could calculate the value of her college accounts.
I also explained to my kids about the power of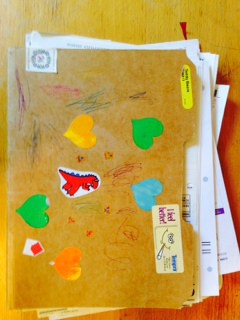 compounding and the benefits of saving early. With Ben sitting on my lap in front of the computer, we would occasionally use an online calculator to see how much he could accumulate for his retirement if he started saving even modest amounts early. Both my children have Roth IRAs and my daughter Caitlin maxes out hers every year.  I expect Ben will do the same when he gets a job.
Investing Wisely for Other Goals
As I said, I realize none of this is going to help people who are facing large bills right now for college, but I think how we invested the money could help you with your retirement goals.
Like most financial journalists (at least the ones that I have met in my career), I invest in index funds. I've invested in Vanguard's index funds for many years for our retirement and non-retirement accounts. I also picked two 529 college funds — Utah and Nevada – that use Vanguard Index funds. Utah now also uses index-like funds from Dimensional Fund Advisors, which are excellent and not available to most retail investors.  My husband and I also invest in DFA funds.
If you are not invested in index funds, you should explore doing so.  As an investor, you can't control what returns you will earn in the future. However, what you can do that is very powerful is to control your expenses. One major reason why financial journalists embrace index funds is their low expenses. Even mutual funds that charge average expenses will greatly erode your returns over your investing lifetime. Investing in index funds over time will generate higher returns than the vast majority of mutual funds.
Learn More About Indexing
If you'd like to learn more about index-fund investing, I'd suggest reading just about any book that Larry Swedroe, a nationally recognized investment advisor in St. Louis, has written. Also check out the common-sense investing posts that Carl Richards  – one of Larry's colleague — writes for The New York Times.
While I believe indexing is crucial, so is getting the right mix of stock and bond funds, as well as value/growth styles. Most people have no clue how to pull together a solid portfolio, but the good news is there are online resources to help you invest wisely and get your asset allocation right. Read the following New York Times story that shares some of these do-it-yourself resources:
Start-Ups Offer Financial Advice to People Who Aren't Rich
Finally, I wish you all the best in paying for college.